TerMac produces state-of-the-art road marking solutions
It was the beginning of the 70s when Rodolfo Gilli started to develop the first horizontal road marking machines. Today, TerMac Road Marking Solutions, a company that utilizes only "Made in Italy" components for its systems, is among the major players in its sector.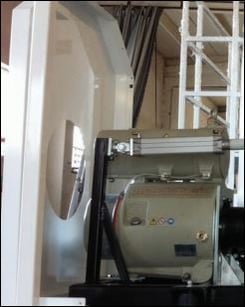 TerMac, headquartered in the Province of Brescia, offers diversified solutions with a high degree of customisation for installations on all sizes of self-propelled machines and lorries, in addition to a series of special fittings.
The two main materials are used for road marking operations are divided into the same number of product ranges. The thermoplastic material (the MT Series) is laid hot and has very rapid cooling and hardening times; this is what makes it the most suitable choice for fast-moving, heavy-traffic suburban roadways. Cold-sprayed paint (the MV Series) on the other hand, is suitable for use for urban road markings, combining excellent results in terms of yield and low costs.
TerMac for Autostrade per l'Italia SpA: Mattei technology also climbs onboard
In 2010, TerMac supplied Autostrade per l'Italia SpA with the equipment needed to apply road markings to its surfaces; this equipment was of a truly innovative size compared to the standard products supplied previously. It is the MT9000 thermoplastic spray lorry-mounted model, with a capacity of 9,000 kg, and the largest machine in its category in Europe.
"Our MT9000 are equipped to provide high levels of performance, from both a technical and application point of view," said Matteo Gilli, son of Rodolfo, who is the current owner of TerMac. "We supply the MT series machines to Autostrade per l'Italia because they allow them to reduce downtimes and work non-stop without creating inconveniences as far as road circulation is concerned."
In fact, the MT Series is equipped with technical features that accelerate the material heating and preparation phases before the final painting phase: "Our MT9000 machines, with a capacity of 1,800 litres in three tanks, are able to produce about 180 tons of laid material per working day, with considerable savings in terms of costs" said Gilli.
The MT9000 is equipped with a Mattei M111E rotary vane compressor, characterised by its compact size and particularly suitable for continuous use. In fact the thermoplastic material is sprayed on the asphalt thanks to the compressed air produced by the compressor.
Mattei compressors cut costs and processing times
The laying of road markings requires high levels of reliability and accuracy due to the context in which they are required to operate.
"Our machines need a compressor that is able to withstand continuous work cycles, often over 12 hours at a time, so as to complete the work as well and as quickly as possible," said Gilli. "The Mattei M111E compressor is mechanically operated and the core element of our thermoplastic spray system, capable of guaranteeing long but trouble-free work cycles. Furthermore, thanks to its compact size, it was extremely easy to install and integrate on this type of machine set-up.
In our sector, everything has to run to perfection. We can never lose sight of the costs that the laying of horizontal road markings on long sections of motorways entails, nor the inconvenience for travellers and Mattei technology has always proven itself to be high-performing, also in comparison to other competitors."
"Thanks to the exclusive rotating vane technology, Mattei compressors are also renowned on the market for their reliability over time and low maintenance costs – adds Flavio Molinari, Italian Sales Manager at Ing. Enea Mattei SpA – A Mattei compressor is capable of operating for about 100,000 hours, without any need for interventions on the moving parts"
An ongoing challenge
Like TerMac, Mattei is constantly searching for new technological solutions to supply top quality products to its customer, focusing on quintessential levels of reliability and versatility. This is what is behind the over 25 years of cooperation between these two enterprises.
"Thanks to their reliability and easy installation features, Mattei compressors have proven to be the perfect ally in a range of different applications – states Gilli – For the painting works on the stretch of motorway that connects Rome and L'Aquila, for instance, we developed and fine-tuned a special type of equipment, based on our traditional systems. They are mobile removable painting systems that are assembled on the vehicle as and when needed: this means that the same vehicle used as a salt spreader in winter, can also be used for painting operations when the mobile system is mounted on the vehicle. This system also boasts a M111 Mattei compressor which integrates perfectly within the system, making it exceptionally easy to install. Another example of the countless number of different ways that the Mattei products can be used is seen in our self-propelled cold painting machines for which we have selected the M80 compressor. This model adapts perfectly to the smaller capacities of this machine, whilst guaranteeing maximum performance in terms of yield and timing."
"The vast range of equipment that TerMac offers to its customers is backed by the versatility of our compressors, which differ in both dimensions and air capacities provided to meet all possible demands. M80 supplies compressed air at from 1,300 to 1,400 litres/min and is the ideal accessory for Termac's smaller machines, which are mainly used for cold painting operations; M111, with its air capacity of about 3,800 litres/min , on the other hand, it is particularly suitable for installation on TerMac thermoplastic material lorries with considerably higher capacities" concludes Molinari.
MATTEI COMPRESSOR MODEL M111E
The "M111E" compressor is a single-stage rotary vane compressor, lubricated, suitable for discontinuous use.
The integration in one single body of the compression unit, oil tank, oil separator, valve group and oil filter, makes the unit exceptionally compact and easy to install. These compressors can be driven by electric, oil-dynamic, endothermic motors or by power take-offs.
Unlike the "MC" models, the oil cooling unit is not integrated in the compressor for the "M" models. This allows positioning of the radiator in a place that better meets the requirements of the manufacturer of the machine it is assembled on.
All "M" and "MC" units for OEM applications can be equipped with a high-performance suction filter capable of filtering solid particles of up to 3 microns with a filtering efficiency of 99%; this allows the machines to be used in environments where the air contains solid microparticles that, if suctioned into the unit could compromise its performance. The filter can be installed in "cool" and clean environments to improve compressor performance.
The "M111E" compressor is able to deliver air at speeds ranging of 1,900 rpm at a maximum operating pressure of 7 bars with a capacity ranging of 3,800 litres/min. The standard compressor is equipped with a hydraulically controlled modulating suction valve, capable of delivering at a constant rotational speed, the amount of air required by the plant system. This means the compressor can rotate continuously delivering air at a constant pressure.